Thread count is considered an important factor when looking for good quality bed sheets. The truth is that the weave used, and the quality of the cotton (or other materials), makes a much bigger difference than the thread count number. Even so, a choice of thread count should still be considered when choosing sheets for your bed.
What is thread count?
Thread count represents the number of threads per square inch. The threads are actually measured with strict standards on how they are counted. Usually, a higher thread count will result in a more smooth, soft and luxurious feeling fabric. Thread count is not an indicator of overall quality. If the cotton is poor quality, then the sheets will be too. It is however a good guide when comparing sheets made from the same material, as you will receive a better product the higher the count.
If there is a thread count does that mean it is 100% cotton?
Sheets that have been given a thread count are not necessarily made from 100% cotton. In fact, a thread count is also usually given to sheets made from polycotton fabric which is a mix of both cotton and polyester. Higher thread counts are more beneficial in sheets made from 100% cotton because a high thread count in polycotton fabric can actually produce an unpleasant fabric, as the fibre can be restricted from absorbing moisture effectively.
Is Egyptian cotton better than regular cotton?
Egyptian cotton is known for its ability to create extra-long fibres which can result in a stronger, more durable fabric. The fibres are finer which creates a softer and more luxurious feel.
Why is the weave important?
There are different types of weave and the type used can create a completely different feel and texture to the fabric. Choosing which type to purchase is entirely up to personal preference.
Plain weave - a traditional one yarn under, one yarn over method.
Percale – a tighter, closely woven plain weave fabric. This weave produces a stronger fabric, the higher the thread count in percale the more lustre you will notice in the fabric.
100% Egyptian cotton white satin stripe duvet cover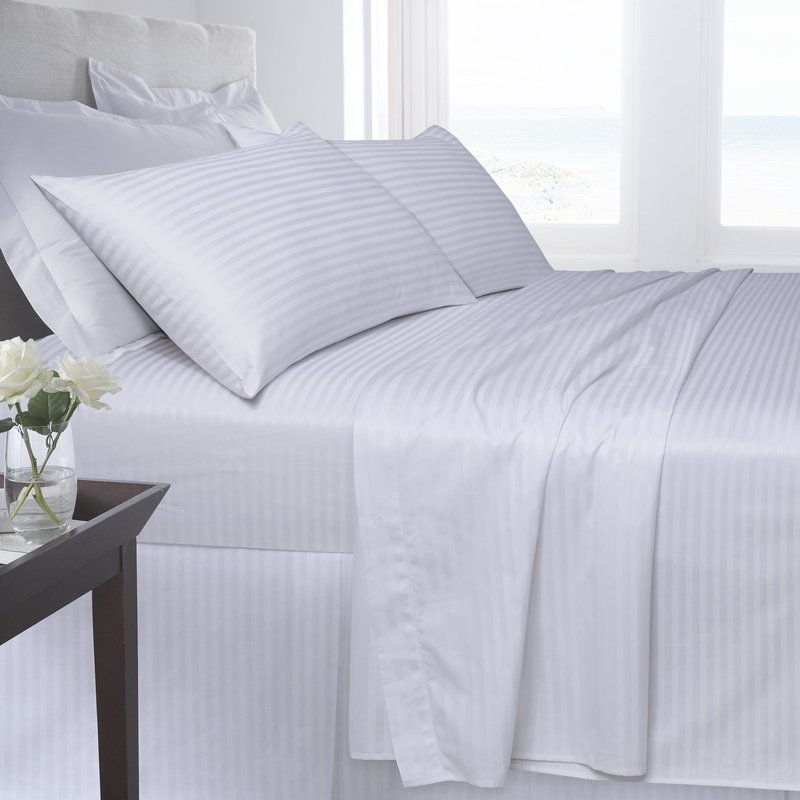 Sateen – a sateen weave is one vertical thread used for every four horizontal threads. This weave creates a lustrous, shiny look and satin feel. This weave is used to create the satin stripe in 100% cotton duvet covers and sheets.

Which thread count should I choose?
200 thread count – most good quality sheets start at around 200 thread count. This thread count is great for people who want to experience the luxury of 100% Egyptian cotton sheets on a budget.
400 thread count – slightly more expensive but well worth it. Double the threads give the sheet a softer and smoother feel with added durability. Commonly used on the beds in major hotel chains.
800 thread count and above – considerably higher in price and not necessarily better. Realistically, the most threads that can be woven in a square inch lies somewhere between 400-600 threads. To increase thread count, the threads need to be thinner which can decrease the quality and longevity of your sheets. There are many tricks used by manufacturers to increase the number of threads, such as using multi-ply yarns. It is important to note with high thread counts, that the number of threads has been risen so that the consumer can be charged more for perhaps a lower quality sheet.