Memory foam 6" rolled up mattress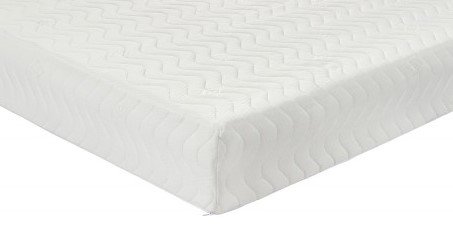 Memory foam 6" rolled up mattress
Memory foam 6" rolled up mattress.
Mattress consists of 1" memory foam with a 5" reflex foam base.
Memory foam shapes to the contours of your body and moulds back into shape when the pressure is released.
Reflex foam, often used in orthopaedic mattresses, is a high density responsive foam that provides support and firmness.
Benefits include:
-naturally hypoallergenic
-very durable
-no springs
-orthopaedic support
-can help reduce pressure points
-distributes weight evenly to alleviate stress on the spine
-promotes excellent spinal allignment
Available sizes:
3ft Single: length 192cm x width 92cm x depth 15.24cm weight: 20kg
4ft Small Double: length 192cm x width 122cm x depth 15.24cm weight: 22.5kg
4ft 6" Double: length 192cm x width 137cm x depth 15.24cm weight: 25kg
5ft King: length 202cm x width 152cm x depth 15.24cm weight: 27.5kg
(all sizes are approximate)